Texas Statewide Pedestrian Safety Forum
Date: July 12, 2018
Time: 9:00 – 3:30
Location: Norris Conference Centers | 2525 W Anderson Ln #365, Austin, TX 78757
REGISTER NOW FOR:  The Texas A&M Transportation Institute, Texas Pedestrian Safety Coalition, and the Texas Department of Transportation will be holding the first annual Pedestrian Safety Forum. The Forum, which is free to attend, will focus on pedestrian safety initiatives and developing strong working relationships between pedestrian safety advocates.  The Forum is geared toward individuals from both public agencies and the private sector, including engineers, educators, law enforcement officers, health care professionals, transportation planners, government leaders, and individual citizens.
June 9, 2018 – AUSTIN, TX — With the Republic of Texas bike rally in town for their annual meet-up — a gathering of thousands of motorcyclists from all over the world getting t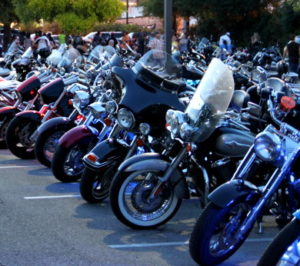 ogether for bonding, camaraderie, music and fun — there is one inevitability: There will be traffic accidents.  The second day of the four-day event has resulted in six incidents so far, resulting in eight patients, according to Austin-Travis County EMS medics who keep a running tally of ROT-rally-originated emergencies each year of the congregation. Of those eight patients so far, seven required transport to the hospital, medics said.
Jojo McKibben, 36, suffered a traumatic brain injury, a lacerated liver and multiple fractures throughout her body in June when a 24-year-old motorist — who was later charged with driving while intoxicated — blew through a red light at the intersection at Lamar Boulevard and West Sixth Street, police said. The driver's SUV hit a van, spun out of control and crashed into McKibben on her bicycle, pinning her beneath the SUV.  Three police officers and four civilians had to lift the 3,400-pound vehicle off of McKibben to save her, an act of heroism that was later honored by the Austin Police Department.
On Tuesday, McKibben was struck again while riding her bike at Congress Avenue and Lightsey Road. This time she was sent to the hospital with several broken fingers, court documents detailing the crash show. The driver who hit her, identified as 58-year-old Richard Garcia Lopez, fled and was later arrested, police said.  "Jojo's injuries were minor, and we are grateful for this," McKibben's partner, Brendan Sharpe, said Wednesday.  He did not want to talk further about the crash but urged riders to "be safe out there."
Data compiled by Austin-Travis County Emergency Medical Services last year show a 60.5 percent decline in bike crashes in the past five years, from 557 in 2012 to 220 in 2017. These figures include crashes with motor vehicles, motorcycles and pedestrians as well as bike-only incidents, with most occurring in the city's congested central corridor.  Texas Department of Transportation data that look specifically at vehicle vs. bike crashes show less of a drop-off during that time, with 345 crashes in 2012 and 312 in 2017.
Jay Crossley with the city's Vision Zero task force says bike ridership has increased in that time in Austin but that has not resulted in more crashes.  Serious and incapacitating bike crashes are rare, with 12 deaths reported in the past five years, according to TxDOT figures. Nic Moe, the former board chair with Vision Zero, said these crashes tend to occur on the outskirts of the city, where people are driving fast and don't expect to encounter cyclists, rather than in the central core.
"They don't really happen downtown," Moe said. "The infrastructure is pretty darn good, and people that are driving tend to anticipate that there will be cyclists."  The Austin Transportation Department has increased the number of bike lanes in the city over the past several years since adopting its 2014 Austin Bicycle Plan aimed at getting more people on bikes.  Despite the drop in reported accidents, an attorney who represents primarily cyclists, Brad Houston, said he hasn't seen his business slow down. He said Austin's growth and increased traffic have caused more problems for riders.   "I really don't think it's getting safer in Austin. That's just contrary to what I see," Houston said.  "Bike lanes are good. They have a positive impact on safety, and they are a big help. But they don't make it safe. Drivers just need to look in all directions. The problem is people need to be in the moment when they're driving."   Houston would like to see stiffer legal consequences for motorists who hit cyclists.  "When they are going easy on these bicycle cases, they are doing nothing to change the situation," he said.
The driver who hit McKibben last year, Katie Bykowski, was indicted on a charge of intoxication assault, a third-degree felony punishable by up to 10 years in prison. She remains out of jail on a personal recognizance bond, and no scheduled hearings are listed in court records. McKibben also sued the Driskill Hotel and Star Bar, accusing them of over-serving Bykowski the night of the crash. The suit is awaiting a ruling in the criminal case, attorneys for McKibben said.  Lopez, the driver accused of hitting McKibben on Tuesday, was arrested and remained in the Travis County Jail on Friday on a charge of accident involving serious bodily injury. His bail was set at $7,500, records show.
By Mary Huber – American-Statesman Staff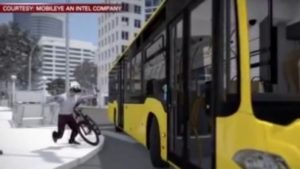 May 14, 2018 – AUSTIN, Texas – On board cameras from a CapMetro bus show how quickly an auto-pedestrian collision can happen.  In a video, obtained by FOX 7 a construction worker can be seen trying to cross the road by darting between parked cars.  He takes a a hard hit but the man survives. Its an example of a problem that Austin Police haven't been able to stop.  "Its extremely disappointing, we are out there working hard to try to make a difference, and we just don't see the results we like to see,"  said APD Detective Patrick Oborski.
"It kind of goes back to what your parents brought you up and said, don't make poor decisions, think about what you do before you do something. You are always suppose to look twice before you cross the road," said Oborski.  Unfortunately, not everyone remembers that safety rule there are those who ignore it and those who are guilty of whats called distracted walking.  CapMetro provided FOX 7 with video clips of nearly 2 dozen incidents that have happened since 2016. Some defy explanation.  There are joggers who run into buses. People who thrown themselves into buses and others who slide down the side trying to stop a bus.   "Just a lot of really distorted people," said Darrell Jamail, CapMetro's security director.  The bus cameras provide a glimpse of what every driver in Austin is facing.
"I think its a combination of things, just based on what we've seen over the years,  the increase in congestion, the increase of traffic and pedestrian traffic on the roads and crossing the roads as well as the increase in use of electronic devices that people are paying sometimes more attention to those than their surroundings," said Jamail.
There have been 8 Auto-Ped fatalities in Austin this year. One remains under investigation the other 7, according to investigators, were the fault of the pedestrian. There were more than 2100 auto pedestrian collisions in Austin between 2013 and 2017. One hundred and eighteen were fatalities, 1,899 involved injuries.
"All these, are cases that can be easily preventable," said Detective Oborski.  Risky runs and fatal collisions that took place on I-35- prompted a new response protocol by APD.   "We are dispatching officers in what we call a code 3 incident, its a hot shot call meaning running lights a sirens to that person, trying to get to them before they make that decision to cross the roadway, so it is a priority one call for us," said Oborski.  A few safety enforcement initiatives have been tried. TxDOT handed out reflective gear to Austins' transient community. Police also issued citations to drivers not yielding to people in cross walks. Those efforts only provided mixed results- but there is something new that may make a difference. Collision avoidance sensors.  Mobileye an Intel Company is one of the companies offering a solution. Multiple sensors can be installed to cover blind spots.
Alerts go off if there is a risk of a collision with a vehicle, pedestrian or cyclist. There are Mobileye devices on a little more than 100 CapMetro buses. But the sensors that were installed only have a forward looking capability.  "Is great equipment, but ultimately you don't want to lull the driver or operators into a sense of security that it will take care of everything for them. Ultimately its on the driver of the vehicle, that they are doing their job," said Jamail.
The best prevention, remains with the Pedestrian. Because failing to stop and look, can all too quickly look like one of the crashes caught on camera.
May 10, 2018 – FOX News7 — The Austin Police Department says there are 5,000 to 6,000 DWI arrests each year in Austin. They say their goal isn't to increase this number, it's actually to stop folks from driving under the influence altogether.   This isn't a new initiative. No Refusal has been happening every weekend this year so far in Austin, and it's something APD attributes for bringing down the number of fatalities caused by intoxication in Austin. APD agrees. Here are the fatalty numbers attributed to intoxication in Austin.
In 2016 – there were 30 deaths.
In 2017 – there were 24.
Detective Michael Jennings with APD's DWI Unit says another rising drug driving. Folks being under the influence of drugs while driving, which is also an offense. Even if it's prescribed to you. Detective Jennings says Austin's fatalities caused by intoxication needs to be zero, something his task force tries to achieve year round.  "I think a lot of times people aren't making a conscious decision saying they'll go out and hurt or kill somebody that's not what it is. But I think they make bad decisions of getting in the car."
March 26, 2018 – AUSTIN – KVUETV — In a study published earlier this year, SleepJunkie.com analyzed data from the Centers for Disease Control, the National Highway Traffic Safety Administration and more to look at instances of drowsy driving crashes in the U.S. and the fatalities that had occurred from them.
Among their findings:
– Texas led the country in sleep-related fatalities in 2016. 159 were recorded in the Lone Star State compared to the next highest, Alabama, which had 43.
– The CDC claims that 1 in 25 drivers have fallen asleep while driving in the past month alone. Adding on their site that the NHTSA estimates nearly 72,000 crashes due to drowsy driving in 2016.
– While vehicle-on-vehicle crashes make up more than 30 percent of sleep-related crashes, nearly two-thirds of the crashes were from a vehicle running into another object.
SleepJunkie also found that Sundays and Mondays were statistically the worst days for sleep-related crashes and that the most crashes happened between 5 a.m. and 6 a.m.  Experts urge sleepy drivers to always seek a safe way off the road and to then take a nap. In Texas, it is legal to spend up to 24 hours at a rest stop or rest area for napping purposes.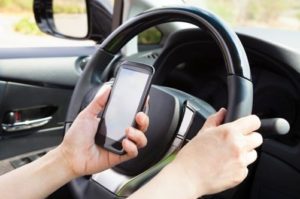 March 5, 2018 – AUSTIN (KXAN) — In the first four months since Texas implemented its statewide texting-while-driving law, the Texas Department of Public Safety reports it issued only 15 violations in Travis County — 14 warnings and a single citation.  The new law is aimed at cutting down crashes in the state because one in five in Texas are caused by distracted driving.  But advocates for the bill say the state law doesn't go far enough to prevent fatal crashes.
"The passage of the no texting state law is great. I'm glad they did it. I'm glad there is the awareness that there are dangers when you are texting while driving, but we now need to go to the next step," said Mike Myers, whose daughter died when she was texting while driving back to Austin from Texas Tech University where she was going to school.  "The night before, she called me and told me of all the things that she was looking forward to doing in her life and she was so excited… and then she was dead," her father said. "We really do need to take it to the next step and ban the use of hand-held phones while driving."
The city of Austin's hands-free ordinance went into effect Jan. 1, 2015.  "You can't have a device in your hand whatsoever while you're driving. You can't use it for GPS. You can't use it for Facebook," explained Detective Patrick Oborski with the Austin Police Department.  From Sept. 1 to Dec. 31, 2017, the city of Austin issued 2,841 citations for the offense. During that same time, DPS issued 1,474 total violations for texting and driving across the entire state.
"It's not to write citations. It's not to give you a fine. It's for the safety, and it's not anything else but the safety," added Det. Oborski. "Even one fatality is too much here in the city, so if we can do anything at all to keep people's eyes on the road and keep them more focused on what they're doing… that's our goal."  Violation of the city's ordinance is a Class C Misdemeanor, punishable by a fine of up to $500.   As the state's texting ban went into effect Sept. 1, so did a required course to combat distracted driving before getting your license in Texas. It is called Impact Texas Young Drivers. All applicants 18 and older must complete the course — which is free — before taking their driving skills exam. There's already a similar course for drivers ages 16 and 17.
Gov. Greg Abbott signed House Bill 62 into law in June after the ban passed the Texas Senate on May 19, 2017 in a 23-8 vote. The Texas House cleared the bill in an 111-62 vote in March last year.  The bill was authored by State Rep. Tom Craddick, R-Midland, and State Sen. Judith Zaffrini, D-Laredo. Craddick said in a statement the governor is saving lives by deterring dangerous and deadly behavior.
"For a long time, Texas has needed this law to prevent the loss of life in unnecessary and preventable crashes and we finally have it," Craddick continued. "This delivers a strong message to Texas drivers to stop texting, put down their phone, and keep their eyes on the road. Like AT&T says: It can wait."  This was the fourth time Texas lawmakers had tried to pass a texting-while-driving ban statewide.  Gov. Abbott, dissatisfied with the law as currently written, said he wants the measure to override city ordinances so there isn't a "patchwork quilt" of distracted driving laws across the state. If legislators do not get to it during the special session, the ban as it is currently written will still move forward and become law in September.
Read the full bill on the state of Texas' website. 
For more information about Vision Zero ATX, click here. 
Goldstein became the 76th and last person to die on Austin roads last year, but the number of traffic deaths in 2017 fell for the second consecutive year, from 79 in 2016, following a record-setting spike in 2015, when 102 people died.  Although several of the crashes in 2017 had multiple victims, the total number of deadly crashes also dropped from 2016. Police investigated 71 fatal incidents in 2017, a nearly 8 percent decrease from 77 in 2016.  Assistant Police Chief Troy Gay told members of the city's Public Safety Commission on Monday that crashes overall were also down roughly 7 percent in 2017.
Police records show that fatal crashes involving pedestrians, motorcycles and motor vehicles all were down last year, but more bicyclists were killed:
• Twenty-three pedestrians died in 2017, compared with 28 in 2016.
• Eleven fatal crashes involved motorcycles in 2017, compared with 13 in 2016.
• Four bicyclists were killed in 2017, compared with two in 2016.
The numbers for 2017 were more in line with those recorded before an unprecedented rise in 2015 in which 102 people died on Austin roads.  Austin police counted 78 deaths in 2012, 75 in 2013 and 63 in 2014. Before that, Austin traffic deaths were even lower. The average number of deadly crashes from 2007 through 2011 was 57, with the lowest being 49 in 2010 and the highest 62 in 2009.  At least 35 of the 71 crashes in 2017 were believed to have involved an intoxicated person.
Francis Reilly, program manager for Vision Zero, a task force working to eliminate Austin traffic deaths by 2025, said that while a reduction in deaths is promising, it's hard to say whether it is indicative of something more significant.  "Looking at crashes over the long term, there's a lot of fluctuation in those numbers, so it's hard to look at just one or even two years and say that we have a trend necessarily," Reilly said.  Vision Zero examines crashes and tries to devise data-guided strategies and solutions through engineering, law enforcement, education and policies.  "We're taking a longer-term view of this, certainly," Reilly said. "It's keeping in mind that these aren't just numbers; these are people with families and loved ones who are dying on our roads."
Jen Samp, a spokeswoman for Vision Zero, said authorities have worked hard to pinpoint specific danger spots, such as the intersections of Martin Luther King Jr. Boulevard and Interstate 35, North Lamar Boulevard and Parmer Lane, and Cameron Road and U.S. 183, as well as North Lamar between Rutland Drive and Rundberg Lane.  Improvements completed in 2016 and 2017 contributed to significant reductions in crashes at those intersections, city Transportation Department officials said. At MLK and I-35, crashes were reduced 61 percent after the city added a southbound through lane, a right-turn island and raised crosswalks, among other improvements.
Crashes fell 57 percent at U.S. 183 and Cameron Road after the addition of a right-turn pedestrian refuge island, high-visibility continental crosswalks and an advance warning flasher on the eastbound frontage road of U.S. 183.  Those improvements were completed in 2016.
In 2017, similar improvements contributed to a 22 percent decrease in crashes on Lamar between Rutland and Rundberg and a 43 percent decrease at Lamar and Parmer, city records show.  She said authorities also have pushed for education and enforcement to curb some of the behaviors that lead to deadly crashes, such as driver inattention and distraction, speed, alcohol or drugs, improper movements, failure to stop, and failure to yield the right of way.  Austin police officers posted on city buses have caught and ticketed people who use their phones while driving. In 2017, the department issued 10,446 citations for driving while using an electronic device.
Officers also targeted drunken drivers by expanding no-refusal periods to cover more weekends in 2017. During no-refusal weekends, officers have more legal resources to obtain blood alcohol samples from suspected drunken drivers who refuse to be tested. The department said crashes in which drivers were intoxicated fell 22 percent in 2017, and no-refusal efforts will remain the same in 2018.  "The main goal is behavior change — whether it be enforcement doing it, engineering doing it or education doing it," Samp said. "Whether it's one or the other. We are going to try all of them."
By Mark Wilson – American-Statesman Staff