As of April 23, 2019 Austin has had 22 fatal traffic crashes in 2019, resulting in 23 fatalities this year. At this time in 2018, there were 19 fatal traffic crashes and 20 traffic fatalities.

---
The 2018 World Day of Remembrance
for the Victims of Traffic Violence:
Texas Vision Zero Vigil
Andrew Tilin left for a bike ride in western Travis County.  It was the last time his partner, Shellie Oroshiba, saw him.  "I wouldn't be here if he was still alive," she said Sunday evening with her 16-year-old son, Ethan, at her side. "I'm here tonight to tell his story."  The two were among about three dozen people who participated in a vigil outside Austin City Hall, followed by a walk to the Capitol, to remember victims of traffic deaths in the past year.  The event was part of an effort by the nonprofit Vision Zero Texas to remember people who have died in traffic incidents in Austin this year and to call on the government to do more to avoid such deaths.
---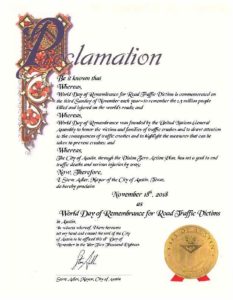 City of Austin Proclamation
by Mayor Steve Adler for:
The 2018 World Day of Remembrance
for the Victims of Traffic Violence: Texas Vision Zero Vigil
Sunday, November 18, 2018
---
Vision Zero advocates look to Legislature to help reduce traffic deaths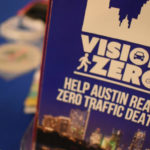 Dec. 10, 2018 – AustinMonitor.com — In 2015, Austin hit a record high in road deaths: 102. In the two subsequent years, things have improved, with 79 and 76 people perishing in 2016 and 2017, respectively. By the beginning of December, 69 had died this year on Austin's highways and roads.
The improvement is not nearly good enough, said Laura Dierenfield, with Austin Transportation Department. At a Dec. 3 presentation to the Austin Public Safety Commission, Dierenfield and others involved with Vision Zero discussed ways that the city can shift transportation behavior to achieve their ultimate goal: zero traffic deaths.  "No death is acceptable," said Dierenfield.
Heyden Walker Black, a board member of Vision Zero ATX and Walk Austin, a pedestrian advocacy group, recalled the recent national response to the outbreak of E. coli in romaine lettuce last month. What headlines described as a national threat has led to 43 people getting sick over the past eight weeks. During that same time period, 6,153 died and 30,770 were seriously injured in car crashes.  Black makes a point of using the word "crash" instead of "accident," to emphasize that the fatalities "are avoidable."
Hence the vigil at the state Capitol last month to remember the 76 lives lost on Austin's roads last year. The event, Black said, was aimed at "putting a human face to this public health crisis." Read Full Story Here
---
As part of its September "Save Me with a Seat" campaign, TxDOT is encouraging parents to sign up for a free child safety seat check-up at any of its 25 district offices located throughout Texas.  Free safety seat inspections are available weekdays – about 20 to 30 minutes. To schedule with a TxDOT Traffic Safety Specialist, visit SaveMeWithaSeat.org for more information.   Read More Here.
---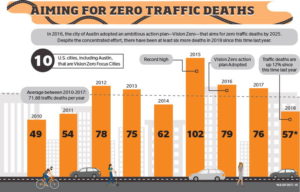 Oct 26, 2018 – CommunityImpactNews — Intersection improvements. Downtown's new Sobering Center. The scooters. Austin Police Department officers riding a Capital Metro bus looking, from their perch, for drivers who are texting.  These are some of the initiatives that fall under the city of Austin's Vision Zero action plan, which City Council adopted in 2016 following a record-high year for traffic fatalities.
The goal? To reach zero traffic fatalities and serious injuries by 2025.   As the plan enters its third year, however, at least 57 people have died in Austin in 2018, a nearly 12-percent increase from this time last year.   "I think it is difficult to have an expectation on an issue that is so complex and [for which]the solutions demand such a broad spectrum of action," said Laura Dierenfield, active transportation program manager for the Austin Transportation Department.
In line with the plan, city staff and safety advocates agree that traffic fatalities will decrease only when there are fewer cars moving at lower speeds on higher-density streets shared with people using other forms of transportation: bikes, dockless mobility, public transportation and their own two feet.  But they also acknowledged that, in a city full of commuters with a developing public transit system, this is a hard task.
---

To register, visit www.aaa.com/4dsummit for AAA Annual 4-D Summit on Tuesday, September 18, 10 a.m. to 3 p.m. at Palmer Events Center, at 900 Barton Springs Road, Austin. This event is free and lunch will be provided.  You may be asked to input your zip code on our Web site.  Attached is preliminary agenda items.
Changing the Way We Think About Distracted Driving
Countermeasures to Stop Alcohol-Impaired Drivers
Teens Taking the Wheel in 4D
Prescription Drugs & Driving
Asleep at the Wheel: Drowsy Driving Data
Legalization of Marijuana: What to Expect?
 Preparing for the Legislative Battle Ahead
---
Register Today:
ADA 28: Accessibility in Every Direction
TxDOT's Civil Rights Division will be hosting ADA 28: Accessibility in Every Direction, a half-day discussion and exhibition focused on celebrating the 28th anniversary of the Americans with Disabilities Act (ADA) on Monday, July 23, 2018, from 8:00 a.m. to 1:00 p.m. at the TxDOT Riverside Campus in Austin. This event is free and open to the public.  For more information about this event, contact Ms. Juanita Webber at Juanita.Webber@txdot.gov. We hope you will join us!
---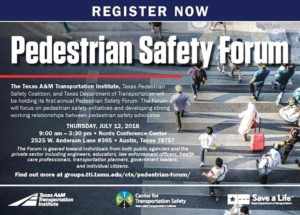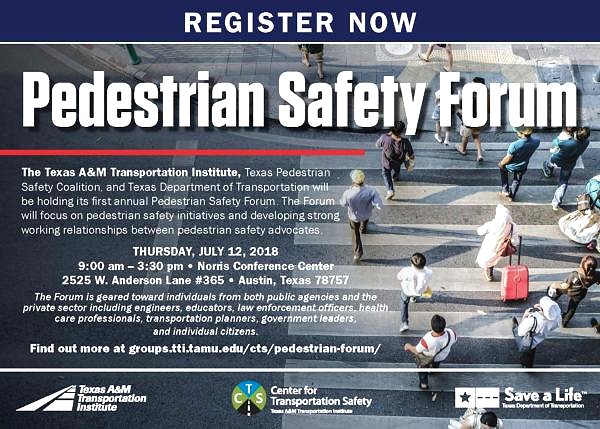 Register now for Texas Statewide Pedestrian Safety Forum on July 12, 2018, Time: 9:00 – 3:30pm at the Norris Conference Centers | 2525 W Anderson Ln #365, Austin, TX 78757   …   More Information Here

The Texas A&M Transportation Institute, Texas Pedestrian Safety Coalition, and the TxDOT will be holding the first annual Pedestrian Safety Forum (free to attend) and will focus on pedestrian safety initiatives and developing strong working relationships between pedestrian safety advocates.

---
Alive at 25® is a pilot training program that addresses risky driving behaviors and the cost of crashes incurred by young and inexperienced drivers. Whether they occur on or off the job, employer's absorb the brunt of crash costs involving employees and their family members.
Alive at 25® is an interactive program designed to teach young adults how to make safe, respectful and legal driving decisions.
Click on links to register for upcoming training sessions and find directions to each of the locations:
Monday, July 23: 4-8 p.m., Barbara Bush Library (Robin Bush Room), 6817 Cypresswood Dr., Spring, TX 77379.
Thursday, July 26: 4-8 p.m., Pleasant Hill Branch Library (Room 2), 211 E. William Canon Dr., Austin, TX 78745.
---
---
What is Vision Zero?
The concept of Vision Zero first originated in Sweden in 1997, when the Swedish parliament adopted it as the official road policy. Founded on the belief that loss of life is not an acceptable price to pay for mobility, Vision Zero takes a systems approach to enhancing safety. Rather than exclusively faulting drivers and other users of the transportation system, Vision Zero places the core responsibility for crashes on the overall system design, addressing infrastructure design, vehicle technology, and enforcement.
The approach has resulted in noteworthy successes – Sweden has one of the lowest annual rates of road deaths in the world: 3 out of 100,000 as compared to 11.6 in the United States (2012), a reduction of 39%. Over the past decade, many other European nations have adopted Vision Zero programs and have achieved significant fatality reductions, for example: Switzerland (41%), Germany (45%), France (48%) and Spain (53%).[reference]
Here in the states, Vision Zero has found success as well, with a 43% reduction in traffic fatalities in Minnesota, a 48% reduction in Utah, and a 40% decrease in Washington State, and in 2014, pedestrian fatalities in NYC were the lowest they've ever been since records began about a century ago.
Vision Zero is based on four principles:[reference]
Ethics: Human life and health are paramount and take priority over mobility and other objectives of the road traffic system
Responsibility: providers and regulators of the road traffic system share responsibility with users;
Safety: road traffic systems should take account of human fallibility and minimize both the opportunities for errors and the harm done when they occur; and
Mechanisms for change: providers and regulators must do their utmost to guarantee the safety of all citizens; they must cooperate with road users; and all three must be ready to change to achieve safety.
What are some other American cities that have implemented Vision Zero?
     The Vision Zero Network in America, a comprehensive website.